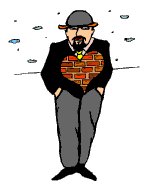 click here to listen to music from the film "The Titanic"
Follow our link on the fish to find out more information about Coral Reefs.
Follow the Coral Code
Remember don't destroy by sitting in barrel sponges or doing the other destructive things listed below:-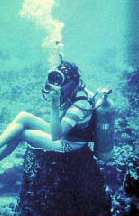 -Never stand, sit or rest on living coral. Despite having hard skeletons, part or all of the colony may die from infection if the delicate outer soft tissues are injured.
- If you are diving or snorkelling, and need to steady yourself, use your fingertips on bare rock and leave your gloves behind.
- Don't touch, move or molest animals for amusement or photography.
- When in a boat be watchful of reefs when anchoring. Polaroid sunglasses make it easier to pick out seabed features. Find a sand or rubble patch and then drop anchor.