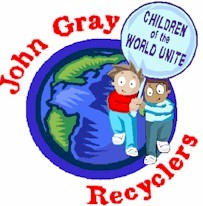 Children of the World Unite
Dive in with the John Gray Recyclers to Preserve our World's Heritage. Sing along with us to "Let's Preserve Our Coral Reefs" (song composed and sung by John Gray Recyler, Kimberly)
Dive In Logo designed by John Gray Recycler Anthony Fraser
Thanks Kimberly for your beautiful Coral Reef Song
Kimberly Powell with 'Slick' our 'Don't Spoil With Oil' Club mascot made from marine debris.
Our Jiminy Cricket Environmentality
Challenge Trophy
On Board the Disney Cruise Line - Receiving our
Medals and Trophy
Click to visit the Coral Reef Alliance Website organised by UNEP
Click on the link above to visit the Coral Reef Alliance website, which was formed by UNEP to help preserve the world's coral reefs. You will find a wealth of information about coral reefs there as well as Kimberly's song and our Rap "Da Recycle Vision" on their Education page.
Click picture & join us in Coral Reef Preservation
at Barkers National Park, Grand Cayman. Melissa & Cathrine plant uprooted mangrove plants
Duane Silverstein, Executive Director of the Seacology Foundation, Coral Reef Report
Click on this link above - Duane Silverstein, the Executive Director of the Seacology Foundation in California is being interviewed by Donovan Watts from the Coral Reef Alliance. Duane explains about the importance of the protection of the Coral Reefs and the Mangroves. You will find our Fiji Naikorokoro Coral Reef preservation project mentioned in this Report.
Find out more news on Coral Reefs and how we are
actively preserving them. Click picture for Donovan Watt's Coral Reef Report
Commonwealth Youth Award Ceremony Pedro Castle
Grand Cayman, Cayman Islands, February 2003 - Picture link to Seacology Naikorokoro Project
Duane Silverstein is pictured with the John Gray Recyclers at our Commonwealth Youth Services Awards Presentation evening organised by the Cayman Islands' Department of Youth & Sports, at Pedro Castle in February 2003. Jeremy Forbes, our President, is seen handing Duane a cheque for one thousand pounds sterling (our award stipend) towards the protection of 17 sq miles of coral reefs in Naikorokoro, Ovalau, in Fiji. In return the John Gray Recyclers, with the help of the Huff School, in California, and the Seacology Foundation, have raised sufficient for the building of a kindergarten in Naikorokoro. It was officially opened by the John Gray Recyclers on 7 July 2004. Click the picture to find out more about this wonderful project.
Click on picture below to meet the villagers of Naikorokoro, Laselase and YasawaIRara, as well as the teachers and students at the school in Ovalau. They all need our help and support, as do their beautiful, threatened coral reefs!
The people of YasawaIRara are bravely trying to preserve their way of life but are facing many difficulties and need our help. They comprise of around 600 villagers with no running water, and very little water in the dry season, no school, and no medical facilities. They have already agreed to preserve two of their islands for the Seacology Foundation and they have built them a beautiful Community Centre where we stayed when we visited them. The people do not even have tools to help them mend anything that goes wrong. They have no transportation, and the only food they have apart from what they grow is the flying fox which needs to be preserved. So you can see that they really need our help! Just a small donation from each of us will help them to live a happy and fulfilled life. The Seacology Foundation are unable to offer more assistance to these villagers at this time as they have many more islanders around the world to assist.
Opening of Naikorokoro Kindergarten - July 2004
Follow the link to our Seacology Fiji project - help save coral reefs and help islanders as well!
Click here to watch the Opening Celebrations of the Naikorokoro Kindergarten - Video 1
Click here to watch the Opening Celebrations of the Naikorokoro Kindergarten - Video 2
We would like to thank our sponsors - Air Pacific, Cayman Airways (our national flight carrier), Pastor Al Ebanks, and the Agape Family Worship Centre, the Bank of Butterfield, Cathy Church's Underwater Photo Centre & Gallery, Cayman General Insurance Co Ltd, Cayman Imports Ltd, the Cayman Islands' Department of Environmental Health, , the Cayman Islands' Department of Tourism, the Cayman Islands' Ministry of Education, Human Resources and Culture, the Cayman Rugby Enthusiasts, Crusader International Management (Cayman) Ltd, CUC, , Dresdner Bank, Island Paving (1985) Ltd, Kirks Office Supplies, KPMG, the Pirates Week Committee, the Rotary Club of Grand Cayman Central, Sounds & Things, and the Queensgate Bank & Trust Co.